Get X-Gauges For Your Diesel Vehicle
Vehicles based on the J1939 & J1708 protocols such as diesel pusher motor homes, trucksm buses and big rigs do not have a consistent standard for data transmission. As a result. these vehicles broadcasts all kinds of information over the data bus and each vehicle can be different.
The ScanGaugeD & ScanGageKR models have a special feature built in that will allow you to read PID data directly from the bus that can help us determine what X-Gauges can be programmed for your vehicle.
Examples include: Freightliner, International, Kenworth, Mack, Mercedes Benz, Volvo, Cummins, Caterpillar and many more.
You can set your ScanGauge to record this data. Then you can write down what it captures and send it to us. We will then analyse what you send us and come up with a set of possible X-Gauges specific to your vehicle.
Install the ScanGauge and get it connected and running.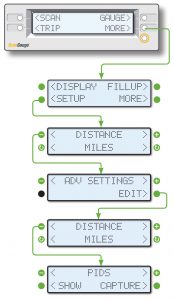 With the engine running, use the following button sequence:
Middle right button for MORE
Lower left button for SETUP
Upper left button of DISTANCE
Middle right for EDIT
Upper left of UPDATE RATE
Middle right for CAPTURE
Wait for 30 seconds then press middle right for DONE
Press lower left for SHOW (You can turn off the engine at this time)