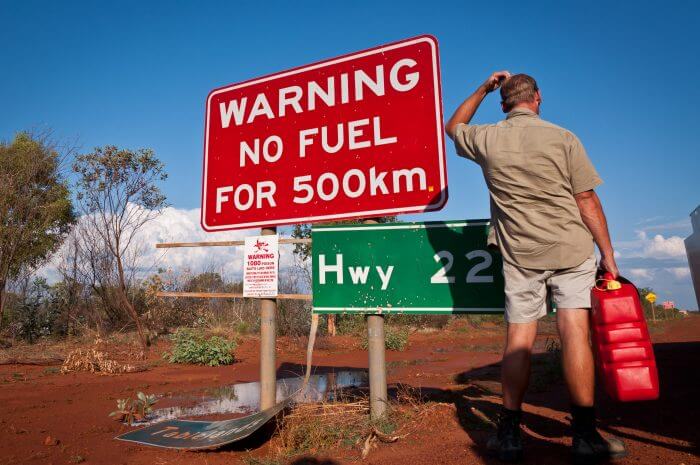 Why the long-range fuel tank?
We know for a lot of you 4x4 fanatics, a basic fuel tank, which covers you for approx. 500km just isn't enough. You want more than this and the option to be able to comfortably explore further on just one fill-up. This is why so many of you opt to upgrade and install an aftermarket long-range fuel tank.
Although there aren't many places in Australia that require you to travel more than 500km without making a refill, we understand the long-range aftermarket fuel tank is a great feature to have installed should you face challenging factors such as delays, detours, hills, and unexpected offroad tracks. In addition to this, it also gives you more freedom in selecting your fuel station to minimise your fill-up costs.
Limitations Of Installing a Long-range Fuel Tank
These days, fuel-related digital gauges such as fuel level and kilometres to empty come pretty much as standard in your newer vehicles. These are really helpful in staying in control of those long-distance trips. The problem here, though, is that once you upgrade to an aftermarket long-range fuel tank, all of these factory gauges automatically become redundant, as they are feeding you information based on your old fuel tank size.
Now, I would guess if you have installed a long-range fuel tank, that you've probably done it for a good reason, I'm thinking: tours of Australia, remote travelling, caravan towing etc. So, you've got you're trusty new long-range fuel tank, but you instantly lose access to any level of accurate information that monitors its performance.
ScanGauge Solution – Fuel Based Trip Computer
So now you need a way to re-configure your fuel tank and its capacity size, which is virtually impossible to do within your factory standard dashboard monitor. This is where the Fuel-based Trip Computer feature comes into play on the Scangauge2.
To function correctly, the Scangauge simply requires you to initially configure your fuel tank size in the setup parameter screen and input your fill up details whenever topping up at the petrol station.
Once you've done the above, then you've automatically regained access to your accurate fuel-related gauges and so much more!

So what can we do from here? One of the five key features available on the ScanGauge2 is the trip computer. We're going to focus on the fuel-based function. With the fuel-based trip computer, you can monitor in 2 ways:
Tank Trip (Current Tank) - how much fuel you have used and how far you have travelled since your last fill-up. This is an excellent way to track general fuel economy and keep a close eye on what you're getting from your fill-ups.
Tank to Empty - how much fuel you have left and the approximate distance you can travel before needing to fill up. This is an invaluable feature to ensure a smooth journey and one that could be the difference in avoiding that dreaded breakdown.
All of the features mentioned above are displayed in a digital format, providing much more accuracy than your factory standard analogue gauge. Personally, I think this is one of the most crucial gauges, requiring optimum accuracy. Without fuel, you're going nowhere!
All things considered, the fuel-based trip computer is a great way to keep track of all things fuel-related, particularly for those of you that have a customised long-range fuel tank.
However, it is worth mentioning that the trip computer is not only specific to those with a long-range fuel tank installed. This feature of the Scangauge 2 is, of course, compatible with any other OBD2 compatible vehicle with a standard fuel tank; you simply need to configure the parameters according to your vehicle's spec.
If you're impressed with the above, the Scangauge has many other fantastic features that can improve the efficiency of your driving. Head over to ScanGauge Australia's website via the below link to find out more regarding Scangauge 2 additional features, and vehicle compatibility:
https://www.scangauge.com.au/scangauge-2-australian-version
If you have anymore questions you can contact us directly.
Photo Credit: Adventure Tours