Better Fuel Economy Means More Profit
For most commercial fleets, fuel represents approximately 50-60% of a fleet's operating costs. With current fuel prices, saving a small percentage in fuel costs can have a large impact on a company's bottom line and profitability.
While there are a number of ways to optimise and improve fuel efficiency for commercial fleets. One of the most cost effective ways to control fuel costs is to invest in improving driving behaviour. Aggressive driving (speeding, rapid acceleration and braking) wastes fuel. When you start, accelerate, slow or stop your vehicle, you are changing the momentum of several thousand kilos of dead weight. This takes energy. The energy comes from burning fuel.
Studies show that adjusting driving behaviour can lower fuel mileage by roughly 15% to 30% at highway speeds and 10% to 40% in stop-and-go traffic1. A US government funded study found that adjusting driving behaviour can improve fuel economy by up to 33%. The study concluded that by monitoring real-time energy feedback, the driver will have access to accurate information about their specific driving situation on an ongoing basis.2 This will result in a more sensible driving behaviour leading to reduced median trip speeds and mean acceleration rates and will motivate them to consume less fuel.3
How Can ScanGauge Improve Fuel Efficiency?
ScanGauge products offer an affordable solution for commercial fleet managers to equip drivers with the right tools and information to help them improve driving behaviour and become more fuel efficient drivers. Unlike fleet telematics solutions which help fleet managers monitor driving behaviour and optimise routing and despatch operations, ScanGauge will on the other hand empower drivers with the real-time feedback they need to help them adjust their driving style instantly and become a fuel sensible driver.
ScanGauge is a Plug & Play monitor that connects to the vehicle's ECU diagnostic port and turns data into a useful digital gauges for drivers. It provides real-time feedback about vehicle's instant and average fuel economy, fuel used, cost of fuel used for each trip, cost per KM, Litres per hour and more!
With over 15 built-in and programmable digital gauges, 5 sets of trip computers and a scan tool - whose main function is to bring alert to you of any mechanical problem - ScanGauge is one of the best tools for any driver on the road to monitor various operating conditions and achieve significant savings with more sensible driving techniques.
And not only that!
Sensible driving will not only save you fuel costs — it will also reduce wear and tear on vehicles' engine, transmission, brakes and tyres, saving you even more money on running costs.
In addition to that, better fuel economy also means less dependence on fossil fuels and therefore less pollution. Although saving money is a big motivator by itself, but surely you would be equally happy to know that you're doing something for the environment, as well.
ScanGauge can be available for almost any kind of fleet. To learn more or buy ScanGauge:
Real-Time Feedback About Your Vehicle's Operating Conditions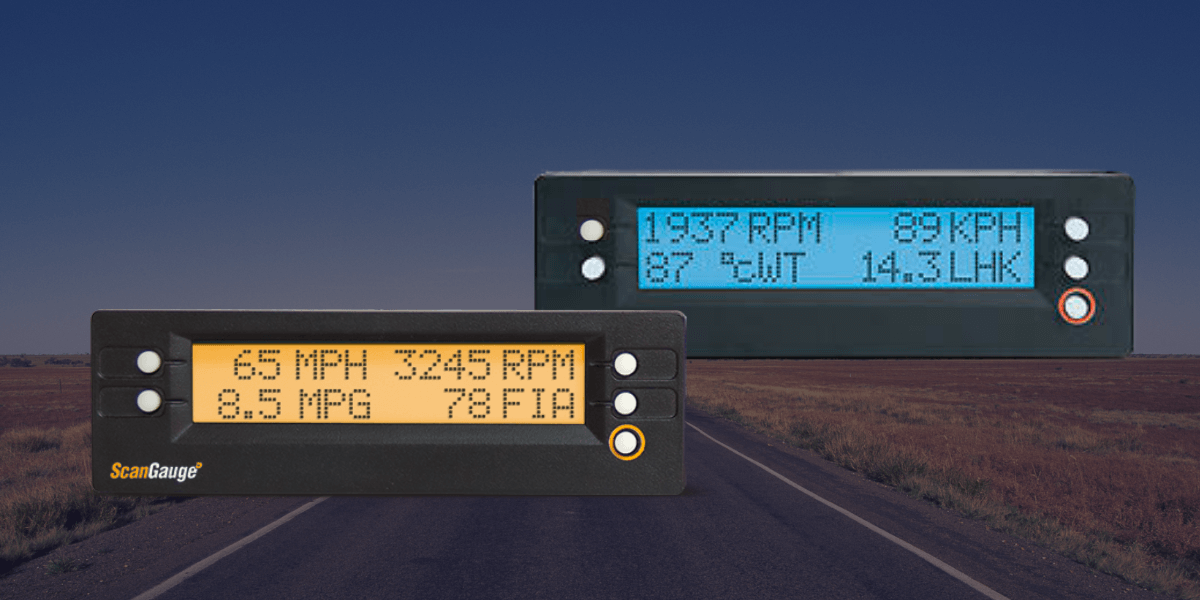 ScanGauge reads your vehicle's diagnostics data and turns it into useful digital reading to show you what is going on "under the hood" in real-time. More than 15 built-in and programmable digital gauges available. The gauge screen allows you to select and display 4 gauges at a time with easy scroll to set your ScanGauge to your preference so you can keep an eye on the data that matters most to you.

Exclusive Programmable Gauge System
Discover available vehicle specific gauges and expand the functionality of your ScanGauge with X-GAUGE™. The ScanGauge has the ability to record your vehicle's PID data. With the available PIDs, we can assemble a vehicle specific X-Gauge list for you to expanse the functional of your ScanGauge.
Gauge
Name
AVG
Average Fuel Economy

CLSD LP / OPEN LP

Fuel System Loop Status
CPM
Cost Per Mile/KM

FIA / CIA

Intake Air Temperature
FPR
Fuel Pressure

FWT / CWT

Water Temperature

GPH

LPH

Gallons Per Hour

Litres Per Hour

MAP
Manifold Absolute Pressure

MPG

KPG

MPL

LHK

KPL

Miles Per Gallon

Kilometers Per Gallon

Miles Per Litres

Liters Per 100Km

Kilometeres Per Liter

MPH

KPH

Miles Per Hour

Kilometers Per Hour

RPM
Revolutions Per Minute
TFC
Trip Fuel Cost
TPS
Throttle Position Sensor
VLT
Battery Voltage
IGN
Ignition Timing
LOD
Engine Loading
HPR
Horsepower
Trip Computers to keep track of everything from fuel cost to distance traveled and everything in between..
With five built-in trip computers, the ScanGauge can help you keep track of everything from fuel cost to distance traveled and everything in between. Data is stored on the ScanGauge and is retained even when the power is disconnected. Each trip computer starts automatically and information is available anytime during the trip.

| Time & Distance Trip Computer | Fuel & Tank Trip Computer |
| --- | --- |
| ScanGauge includes three trip computers based on time and distance. They include the Current Trip, Today Trip and Previous Day Trip. Each trip computer starts automatically and tracks the following parameters: | The ScanGauge includes two trip computers based on the current tank of fuel. They include the Current Tank and Tank to Empty. Each trip computer starts automatically when you tell ScanGauge you have filled your tank. |
| KM/L / MPG | KML / MPG for Current Tank |
| Fuel Used | Fuel Used on Current Tank |
| Max Coolant Temperature | Tank to Empty |
| KMs Driven | Distance to Empty |
| Max RPM | Distance Until Empty |
| Hours Driven | Hours Driven on Current Tank |
| Max KPH | Hours to Empty |
| Average KPH | Average Speed |
| Fuel Cost | Fuel Used Cost |
ScanGauge will check for, display and clear both captured set and pending trouble codes.

The ScanGauge can check for Engine Diagnostic Trouble Codes (DTCs) and if found, can display how many there are and the Trouble Codes themselves and the condition that were present when the problem occurred. Using the internet or repair manuals, these can be translated to the failed component and repairs can be made.
Reads Trouble Codes
Clears Trouble Codes
Shows Conditions When Trouble Was Detected (RPM, COOLANT, TEMP etc)
Turns Off "CHECK ENGINE" Light
Shows When Onboard Tests Have Been Completed And Vehicle Is Ready To Pass OBDII emissions Testing
ScanGauge can be available for almost any kind of fleet. To learn more or buy ScanGauge:
Sources
1- Fueleconomy.gov https://www.fueleconomy.gov/feg/driveHabits.jsp
2-Oak Ridge National Laboratory. 2017. https://www.ornl.gov/news/sensible-driving-saves-more-gas-drivers-think
3- Institute of Transportation Studies, University of California, Davis. PDF Download ECODRIVE I-80: A Large Sample Fuel Economy Feedback Field Test